Upcoming Events
DOUBLE HEADER WORKSHOP IN AUGUST!!!
Mark your calendars for Saturday August 17 and Saturday August 24.
Last year, we had a great response to our amazing song audition workshop. So this year we are having it again PLUS a monologue audition workshop! I know, right? It's going to be fantastic! The monologue workshop will on the 17th and the song workshop will be on the 24th. Theatre Charlotte will be graciously hosting these afternoon workshops from 1:00 to 4:00. And we have the best of the best on the panels to share their insight and expertise with you. For the monologue workshop, we are fortunate to have Tonya Bludsworth, Dr. Corlis Hayes and Michelle Hope Long.
For the song workshop, we are excited to have Ryan Deal, Dennis Delamar and Corey Mitchell. MTA members can attend for free. For nonmembers, it will be $30.00 per workshop. However, if you do sign up for both Saturdays, it will only be $50.00. So if you are 17 years old or 117 years old or anywhere in between, we would love for you to be a part of this fun and informative adventure! Participation is being limited to 20 for each workshop, so sign up quickly. For the monologue workshop, have one to two pieces prepared. For the song workshop, have one to two songs prepared and also have the sheet music. Not only will Ryan Deal give you his expert advice, he will also accompany you.
Sign up for one or both workshops
Join MTA (members attend workshops for free)
---
Mark your Calendar!
for the...
MTA 2019 Awards Gala
Sunday September 29, 2019, 5:30pm
at Le Meridian Hotel, Charlotte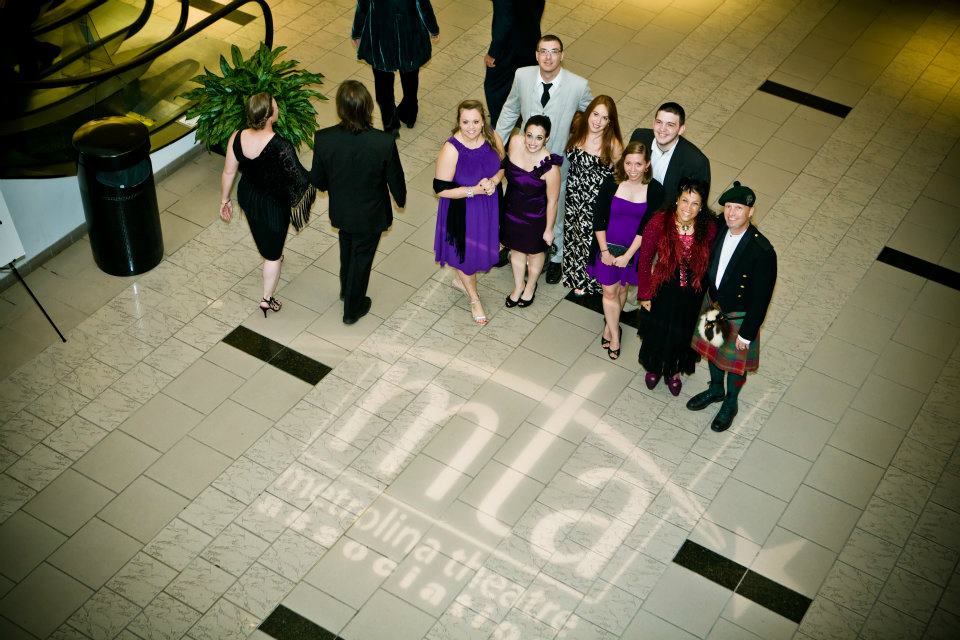 Join us for an evening of fun, entertainment, fellowship, and recognition for Charlotte's talented theatre artists.
How to Purchase Tickets:
Individual Tickets go on sale: July 1, 2019 through this website.
Individual Tickets: $25 MTA member / $35 non-MTA member
We also offer sponsorships which include a dedicated table for your friends or your organization. For more information, download our sponsorship document.
About the MTA Awards
From MTA president Hank West's recent newsletter:
What are the awards for?
Well, that's a loaded question. Actually, there are a number of reasons for them. Our theatre family is consistent in doing stellar work and that work should be recognized. Nominations and recognition can help in the promoting and advertising of companies, and it can be helpful in grant applications. For individuals, it can look good on resumes. I see a lot of theatre, and it always makes me happy to see where the company acknowledges their MTA recognition and also great to see it in the personal bios. Also, the awards is a great way to get all gussied up and come together and celebrate what we all love to do!
What companies are involved with the award process and what is the eligibility period?
Well, this season we have Ansonia Theatre, Brand New Sheriff Productions, Charlotte's Off-Broadway, CPCC Theatre, CPCC Summer Theatre, Davidson Community Players, Fort Mill Community Playhouse, Hickory Community Theatre, Little Theatre of Gastonia, Rock Hill Community Theatre, Theatre Statesville and Union County Playmakers. The period that shows are being considered is September 1 2018 through August 31 2019.
Are the awards being broken into the areas of the theatres, such as Northern Region, Southern Region, Charlotte area, College/University?
No it isn't. The twelve companies participating are all together. In the future, if more companies get involved, we will look into possibly breaking it into areas again.
Are all of the productions from these companies eligible for award recognition?
No. Each company selects two of their season's productions to be considered for the recognition. The company makes that decision at the beginning of their season.
Why aren't all of the productions being considered?
Because of the vast territory involved, it would be difficult to find panelists who could commit to every show being produced. If more companies get involved and we broke down the areas again (Northern region, Southern region,Charlotte, etc....), we would revisit this in the future. If that would happen, we would have more than one group of panelists.
What are the awards given this year?
This year, awards will be given in two major categories: Outstanding Musical and Outstanding Play. A theater company can designate one show for each category, or designate their two shows in one of the categories. In the past, there was Outstanding Comedy and Outstanding Drama, but we are not doing that this year. There will be recognition for outstanding leads, supporting leads, direction, costumes, set, and sound for the two categories, and also music direction and choreography in the musical category. Special awards will be given for Company of the Year, Theatre Person of the Year, Newcomer, The Robert E. Rackley Award for Technical Excellence and other possible special recognition awards.
What about the colleges and universities?
Well, you know how much I personally love the colleges and universities, because they truly ROCK! I would really love to have them be a part of this, but it would only work if we could get at least four of them to participate. If they came back, they would be in their own category. Fingers crossed, they will be back on board very soon!
Is the voting process different this year?
Well, this has changed radically from the past. In the past, there was much criticism about favoritism and judges not attending the shows. As far as the nominating goes, this responsibility is being left to the companies. It is their responsibility to nominate who or what aspect of their production they considered to be outstanding. The MTA panel is required to see the productions submitted and will vote on the final ballot that determines who will be recognized for outstanding work. In other words, the companies will do the initial nominations, not the panel. The panel will vote on the award.
So tell us about this panel.
Well, we have a panel of seven who cover a large spectrum of our theatrical family. It was important to have those who are not affiliated with any particular theater company. We are proud that the panel represents not only artists from onstage and offstage, but also educators and patrons of theater. Our seven are: Brenda Arko, Jim Putnam, Mack Staton, Avon Stephenson, Amy Wada, Hank West, and Elyse Williams. We also have two alternates: Ann Kimbro and Christie Young.
So, is this a perfect system?
Absolutely......not! I'm afraid nothing is ever perfect. I mean, like any awards, it's like comparing apples to oranges. It really is more about celebrating what we love and trying to give some recognition to the hard work and wonderful magic we provide. Also, I don't know of any other organization that attempts to do such specific recognition for such a vast area. It's a huge undertaking. It's a bit daunting when you think about it, and a lot of work. Nothing is set in stone, so we will be looking to see for ways of improvement for the future awards seasons. We always welcome suggestions and constructive observations, so let us hear from you!
So when and where is the awards event and can anyone come?
Go ahead and mark your calendars for Sunday September 29 2019 to be at Le Meridien in Charlotte. The event will be from 5:30 to 8:30, and we want EVERYONE to be there! This isn't just for the twelve companies participating in the awards, but it truly is for everyone to celebrate what we love. We actually have company members who are not participating in the awards this year, but we want them there and all the companies and individuals in our amazing Metrolina family. It only costs $25.00 per person. We want it to be reasonable for our entire family to enjoy this time together!